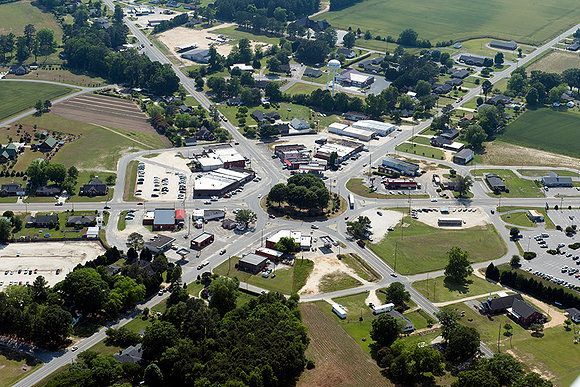 Founded in 1952 by Archie Parrish, Newton Grove Drug Company combines small town service and charm while providing expert pharmaceutical care. For nearly sixty years, Newton Grove Drug has been serving customers in Newton Grove and surrounding areas. From day one, we have been guided by the principle to treat each customer like family, because ultimately we know that no one cares how much we know, but everyone should know how much we care. We've made it our goal to meet the special healthcare needs of our community. Our pharmacists, Thomas, Van, and Joey have over 85 combined years of experience under their belt. They address questions and concerns completely and confidentially, providing unparalleled service.
At Newton Grove Drug, we utilize the latest technology available, including completely computerized prescription processing, record-keeping, insurance filing, monographs and tax printouts. Just a visit or a phone call away, we pride ourselves on being your resource for all things pharmacy related. Open seven days a week, we are always here for your health needs.
Our knowledgeable staff knows you by name, and can fill most prescriptions in 10 minutes or less. Our curb service allows customers to drop off or pick up prescriptions conveniently. We also offer quick and easy home delivery. We have grown from a small drug store to a modern pharmacy offering traditional services, quality products, and friendly service.
Newton Grove Drug also acts as an intern site for pharmacy students to provide them with practical experience in various aspects of the profession of pharmacy. They enjoy a pleasant work environment and gain useful, hands on experience in problem solving and providing patient care services. In addition this provides constant continuing education to our pharmacists and staff.
Please stop in or give us a call, and let us become a part of your family…you'll be glad you did!
In December 1952, Alton Sherwood Parrish and his wife, Norma, came to Newton Grove to establish Newton Grove Drug Company. He was reared in nearby Four Oaks and Mrs. Parrish came from the mountains of West Virginia. It was during military service and pharmacy school at UNC Chapel Hill that Sherwood Parrish acquired the name "Archie" or "Archibald". As such, when he relocated here, he was known as Archie Parrish. Before arriving in Newton Grove, he worked at Sloan's Drug Store in Chapel Hill.
Prior to this time, Newton Grove was primarily a two service station town with a post office. There was no bank, and the closest physicians were Dr. Lee at McLamb's Crossroads and Dr. Warrick at Grantham. Archie had inquired about the community and considered Newton Grove to be a good location to establish a drug store where there was both a need and an opportunity. He was loved by his Four Oaks neighborhood. As a result, many of his friends followed him here to patronize his business and see him become successful. He was still Sherwood Parrish, their beloved son. Mrs. Parrish assisted him in the business and was a great asset.
Archie was not only an entrepreneur, but a man of vision. Whatever he decided to do, generally he did it. With the help of others in town, Archie petitioned the Banking Commission to establish First Citizens Bank here. In like manner, he realized a need for a medical facility here, particularly with the ages of Dr. Lee and Dr. Warrick. Hence, he was influential in establishing a medical center in Newton Grove, which served as a precursor to our current Newton Grove Family Medicine. Newton Grove was also without any kind of industry, as it was primarily a farming community with limited income otherwise. Again, he was influential in establishing a factory that provided jobs to many in the community.
When Archie established the drug store, Thomas Alton Williford was a young kid who wanted to be a pharmacist. Thomas' dad, Joseph, and Archie had come to know one another. One day Joe and Thomas were in the store and as Thomas observed "Mr. Parrish" he was very impressed. He had heard people in town talk about "Mr. Parrish" and what a good pharmacist and helper he was to the community. He wore white, long sleeved, starched shirts with cuff links and stylish ties. He worked in the only air conditioned building in town. He helped people when they were sick and really became their "doctor". All of this impressed Thomas and he was more excited than ever to become a pharmacist. Thomas worked with Archie every Saturday and Sunday and sometimes during the week throughout high school. Thomas attended UNC Chapel Hill School of Pharmacy and worked here during the summers. In 1964, Thomas joined Archie as a pharmacist at Newton Grove Drug. In 1973, Archie sold Thomas the business and the two men continued working together for over a decade.
In 1988 Archie Parrish retired from Newton Grove Drug and Herman Van Williford was hired to work with Thomas. Van, a 1983 graduate of UNC School of Pharmacy, like Thomas, had grown up in Newton Grove. As a lifelong member of the community he too had seen first hand just how integral Archie Parrish and Newton Grove Drug had become to the town. As Mr. Parrish began to spend more time at the golf course, Thomas and Van continued to work those twelve hour days at the store.
Two decades passed and in 2005, Tommy's son Joey, a 2001 graduate of Campbell University School of Pharmacy, was hired to work alongside Thomas and Van. Having grown up as a child in the drugstore, Joey has held every position from soda jerk to pharmacist. Today, he and Van work alternate days while Tommy fills in on occasion. As we celebrate all these years of service since our founding in 1952, we hope to build upon our proud heritage while looking toward the future.
Established in 1952, Newton Grove Drug is one of the oldest pharmacies in North Carolina. Long before the days of the big box chain stores, Newton Grove Drug set the pace with seven days a week service, twelve hours a day. A lifelong member of North Carolina Mutual Drug, we pride ourselves on being the lowest priced, best value for your healthcare dollar anywhere. We have been recognized by public television here in our state with an episode of "My Home NC" devoted to us. We have been featured in numerous magazine, newspaper, and internet articles touting our place in our state and community as a fixture on the world famous "Newton Grove Traffic Circle". Our old fashioned soda fountain with lemonades, orangeades, milkshakes, and 24 flavors of hand dipped Hershey's Ice Cream is a local landmark and a nostalgic memory for many North Carolinians. Before the days of interstate 40, if you traveled to the North Carolina Coast from Raleigh and places westward, chances are you probably stopped and had one of our famous milkshakes.
As pharmacy preceptors for both UNC Chapel Hill and Campbell University School of Pharmacy, we have helped precept nearly three generations of pharmacists. The willingness to give back to our profession is embodied in the philosophy of owner Thomas Williford. An educator at heart, Thomas has long believed that a quality education is one of the keys to prosperity and success. Grounded in his faith and his belief in education, Thomas has given hundreds and hundreds of high school kids their first jobs working at "the drugstore". All of them will tell you that he was at one time a driving force in each of their lives. Thomas has personally authored well over 50 pharmacy school letters of recommendation during his tenure at Newton Grove Drug. You might find this a bit astonishing, but every one of those students went on to become pharmacists. In addition to precepting students, Thomas Williford has served as an advisor on the admissions board to Campbell University's School of Pharmacy.
We take great pride in knowing how deeply our community has supported Newton Grove Drug since 1952. We are very thankful to our customers past, present, and future. Come see us today and learn why we're more than a pharmacy…we're family!

Thomas Alton Williford - Owner & Pharmacist Manager
Thomas is entering his sixth decade at Newton Grove Drug. He has helped to care for generations of patients during this time. In fact, his family says that it seems like Thomas knows everyone in the area and everyone they are related to past, present, and future. An avid supporter of education, Thomas believes in doing things the right way each time. He has devoted his life to his church, his family, and the drugstore. Often, you will hear him remark, "I still love my job"…and he means it even after all these years.
Thomas lost his partner and beloved wife, Jo Ann, in 2017. Jo Ann was an elementary school teacher for 35 years and drugstore clerk for even longer. Through her career in education and her unofficial role as "Newton Grove Drug Company Ambassador", Jo Ann helped others feel good about themselves, and ultimately realize their potential in life. To those that knew her, she was simply an extraordinary person. Known far and wide for her caring, loving, compassionate heart, her legacy lives on in her family: Thomas, Laura Jo, Joey, Robin, Charlie, and Suzanne. These days, Thomas helps Joey at the store most Mondays and Wednesdays now. When Thomas is not at the store, he can usually be found on his lawnmower, at Newton Grove Baptist Church, playing his piano, listening to Charlie and Suzanne play the guitar or piano, or watching a basketball game.

Herman Van Williford - Rph
Cousin Van has worked at Newton Grove Drug for over thirty years. He has been a vital cog in the business. A graduate of the University of North Carolina School of Pharmacy, Van has worked in both hospital and retail pharmacy. He brings a wealth of knowledge to his job and to his customers his thoroughness and attention to detail are very much appreciated. Van also holds a chemistry degree from the University of North Carolina at Chapel Hill. If you need anyone to draw the chemical structure of glucose, then please come on Tuesdays and Thursdays when Van is at work as Joey strictly focuses on finding sources of glucose. Van and his wife Wendy have one son, Chandler. When not at work, Van loves spending time at the beach with his family and watching Chandler play baseball collegiately.

Joey Wood Williford - PharmD
Joey has grown up in Newton Grove Drug. As a child, he helped his dad do most anything at the store. Today, he and his wife, Robin, manage the business. A 2001 graduate of Campbell University School of Pharmacy, Joey has always loved the business and carrying on its' place in the community is a passion of his. Joey loves his customers, many of whom he considers like family. In addition to his regular pharmacist role, he has been known to help kids with homework, tell a joke or two, and even work on a customer's television. If you like to talk basketball, barbecue, or all things Tar Heels…then come to Newton Grove Drug when Joey is at work on Mondays and Wednesdays. Joey is a self-proclaimed basketball historian and purveyor of pizza, bbq, and burgers. He knows a little about medicine (please don't ask him to draw chemical structures), but he knows an awful lot about good food. From Murphy to Manteo, Joey probably saw so and so play ball or he's tried the food and if he hasn't, he's still got a story about it. In fact, BBQ Guru Bob Garner once stopped in to offer Joey the role of sidekick, but Joey told him he could not leave his dad or the circle.
Joey and his wife, Robin, have two children, Charlie and Suzanne. When not at work, Joey loves to be at the Dean Dome watching his beloved Tar Heels, spending time with his family, and playing with his children.